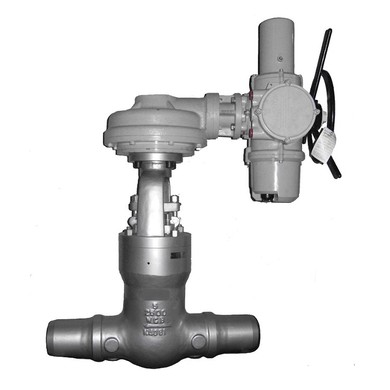 Electric Actuated Gate Valve
Introduction An Electric Actuated Gate Valve is a type of valve that opens or closes through linear movement of an electric gate valve actuator controlled by electric voltage and signals. By using electric gate valves, you can remotely control pipelines, reduce labor costs, and improve production efficiency. The electric gate valve is one of the […]
Products | Detials
Introduction
An Electric Actuated Gate Valve is a type of valve that opens or closes through linear movement of an electric gate valve actuator controlled by electric voltage and signals. By using electric gate valves, you can remotely control pipelines, reduce labor costs, and improve production efficiency.
The electric gate valve is one of the most commonly used shut-off valves, mainly used to connect or cut off the medium in the pipeline. It is not suitable for adjusting the medium flow, but it is suitable for a wide range of pressures, temperatures, and diameters, especially medium and large diameter pipelines.
Electric gate valves are suitable for a variety of media, including water, oil, cement, and paper pulp, and are widely used in industries such as paper and pulp, power plants, shipyards, and wastewater treatment.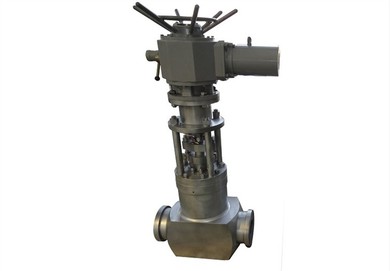 Technical Specifications:
| Specification | Range |
| --- | --- |
| Sizes | NPS 1/2 to NPS 48 |
| Pressure Class | Class 150 to 2500 |
| Casting Materials | A216 WCB, WC6, WC9, A350 LCB, A351 CF8, CF8M, CF3, CF3M, A995 4A, A995 5A, A995 6A |
| Forging Materials | A105, A182 F304, F3304L, F316, F316L, A182 F51, F53, A350 LF2, LF3, LF5 |
| Alloy Materials | 20, Monel, Inconel, Hastelloy |
We offer valves of variety materials for industrial use. This ensures that our valves can withstand a range of temperatures, pressures, and media types, making them a versatile choice for a wide range of applications.
DESIGN FEATURES
Design: Full or Reduced Bore
Connection: RF, RTJ, BW or PE
Entry Design: Side entry, or top entry design
Double Block & Bleed (DBB),Double Isolation & Bleed (DIB)
Emergency seat and stem injection
Anti-Static Device
Anti-Blow out Stem
Cryogenic or High Temperature Extended Stem
Operator: Electric Actuator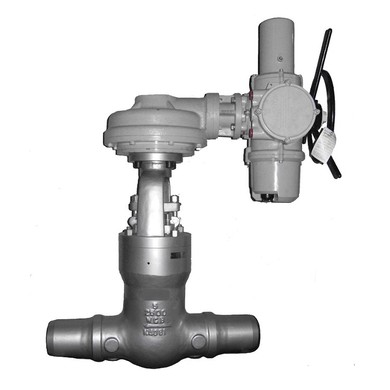 DESIGN STANDARD
Design and manufacture in accordance with API 600, API 603, and ASME B16.34.
Face-to-face dimensions should comply with ASME B16.10.
End connections should follow ASME B16.5 (RF & RTJ) and ASME B16.25 (BW).
Please conduct tests and inspections according to API 598.
Additionally, please note that these products are also available in accordance with NACE MR-0175, NACE MR-0103, ISO 15848, and API624.
Advantages:
Our Electric Actuated Gate Valves offer several advantages over other types of valves:
Reliable and durable design: Our valves are engineered to withstand demanding applications and environments, ensuring long-lasting, dependable performance.
Easy-to-use: The electric actuator provides precise control and makes it simple to operate the valve remotely.
Safety features: Our valves are equipped with emergency seat and stem injection, anti-static devices, and anti-blow out stems, ensuring safe and dependable operation.
Versatile applications: Our valves are suitable for a broad range of applications, including highly corrosive chemicals, nuclear power plants, and LNG liquefaction.
Applications:
Our Electric Actuated Gate Valves are versatile and can be used in a variety of applications, including:
Chemical and petrochemical plants: Our valves are particularly well-suited for highly corrosive chemicals, such as chlorine gas, as well as in semi-conductor, pulp stock, and paper industries.
Ship-building and cargo ships: Our valves can be used for both fresh and seawater in ship-building, as well as on existing cargo, tanker, or passenger ships.
Food applications: Our valves are ideal for use in food applications where hygiene and safety are of utmost importance.
LNG liquefaction: Our valves are engineered for use in LNG liquefaction plants, LNG tanker ships, and LNG receiving terminals.
Nuclear power plants: Our valves are well-suited for use in nuclear power plants, where safety and reliability are critical factors.
Why Choose Us?
At our company, we are dedicated to providing our customers with high-quality and dependable products that meet the most rigorous industry standards. There are several reasons why we believe you should choose us for your Electric Actuated Gate Valve needs:
Advanced design: Our valves are crafted using the latest technologies and materials, ensuring reliable and long-lasting performance.
Industry expertise: With years of experience in the valve industry, we possess a deep understanding of our customers' needs and requirements.
Quality assurance: Our valves undergo thorough testing and inspection to ensure that they meet the highest standards in the industry.
Excellent customer service: Our team is committed to providing our customers with exceptional customer service and support.
Related Valves Products:
Documents You may also like: