"Overview of Wedge Gate Valves: Components, Working Principle, Types, Applications, and Maintenance"
2023-03-17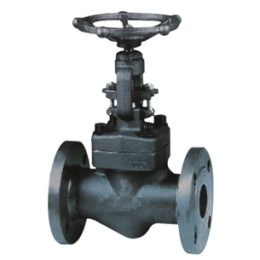 Wedge gate valves are widely used in various industrial applications for controlling the flow of fluids or gases. These valves offer excellent shut-off capabilities and can handle high pressure and temperatures. This article provides an overview of wedge gate valves, including their components, working principle, types, applications, advantages, disadvantages, maintenance, and troubleshooting.
Components and Working Principle
A typical wedge gate valve consists of a body, bonnet, gate, stem, and actuator. The body is the main housing that contains the valve cavity, while the bonnet covers the cavity and provides access to the internal components. The gate is a flat or curved plate that slides up and down to regulate the flow of fluid or gas. The stem connects the gate to the actuator, which can be manually operated or automated.
The working principle of a wedge gate valve is based on the movement of the gate. When the valve is open, the gate is lifted or lowered to allow the fluid or gas to pass through the cavity. When the valve is closed, the gate is pushed against the valve seats to create a tight seal and prevent leakage. The wedge shape of the gate enables it to wedge tightly between the valve seats and prevent any flow.
Types of Wedge Gate Valves
There are several types of wedge gate valves, including solid wedge, flexible wedge, split wedge, and dual-disc wedge. Solid wedge valves are the simplest and most durable type, while flexible wedge valves are designed to compensate for any deformations or misalignments in the valve seats. Split wedge valves have two separate halves that can expand or contract independently, making them ideal for high-temperature applications. Dual-disc wedge valves have two parallel discs that can be opened or closed simultaneously, providing balanced flow control.
Applications of Wedge Gate Valves
Wedge gate valves are commonly used in industries such as oil and gas, petrochemicals, power generation, water treatment, and mining. They are used to control the flow of fluids or gases in pipelines, tanks, boilers, and reactors. They are also used in emergency shut-off systems and as isolation valves for maintenance purposes.
Advantages and Disadvantages
The main advantages of wedge gate valves are their excellent shut-off capabilities, high-pressure and temperature resistance, and durability. They are also easy to operate and maintain. However, they have some disadvantages, such as their tendency to accumulate debris and their limited throttling capability. They may also require higher torque to operate than other valve types.
Maintenance and Troubleshooting
Proper maintenance is crucial for the efficient and safe operation of wedge gate valves. Regular inspection, cleaning, lubrication, and replacement of worn parts are essential. Troubleshooting common issues such as leakage, sticking, or jamming requires careful diagnosis and repair by trained personnel. It is important to follow the manufacturer's recommendations and guidelines for maintenance and troubleshooting.
Wedge gate valves are an essential component of many industrial processes, providing reliable and efficient flow control. By understanding their components, working principle, types, applications, advantages, disadvantages, maintenance, and troubleshooting, operators can make informed decisions about valve selection, operation, and maintenance. With proper care and attention, wedge gate valves can provide long-lasting and trouble-free service.
Related Valves Products:
You may also like: