The Top Butterfly Valve Manufacturers in the USA
2023-04-27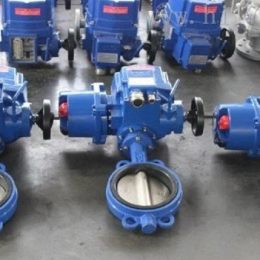 Butterfly valves are an essential component of many industrial and commercial applications. They are used to regulate the flow of fluids in pipelines and can be installed in any type of pipeline. There are different types of butterfly valves, including manual, semi-automatic, and electric. If you are looking for a butterfly valve in the USA, this article will provide you with information on some of the top manufacturers.
Flowserve Corporation
Flowserve Corporation is a well-known manufacturer of high-quality butterfly valves. The corporation was founded over 200 years ago and has a global footprint, exporting to 50 countries. They specialize in industrial valves, end mechanical face seals, and high-precision throttles. Their product range is used in industries such as oil, gas, power, and chemical.
Flowserve Corporation Butterfly Valves are a great choice for industries such as power generation, hydrocarbon processing, water treatment, and marine shipbuilding. The Flowserve Corporation Butterfly Valves feature a high-performance disc that enables precise control of flow. These valves can be actuated by a quarter-turn mechanism to regulate the flow rate.
Crane
Crane Co. manufactures custom-made butterfly valves to fit a company's specific piping system. They have pressure ratings of 200 to 300 psi and can be made from a variety of materials, including EPDM and Nitrile. In addition, they can be made from ductile iron lined with epoxy. The company values corporate citizenship and has been in business for 165 years. Their headquarters are located in Houston, Texas.
The Crane Company is a top-notch manufacturer of industrial valves. Its valves are used in industries as diverse as aerospace, petrochemical, chemical, and power generation.
Bray
Bray Butterfly Valve Manufacturers in the United States have been renowned for their high-performance and reliable products for decades. Their valves are used in a wide range of industries and are recognized worldwide for their durability and performance. Bray is sure to have a valve to meet your needs.
The NY and AB series of commercial resilient seated butterfly valves have set the standard for quality and design for valves used in HVAC applications. They are perfect for applications involving chilled water, hot water, condenser water, and steam. They can handle pressures up to 250 PSI. These valves are made of high-quality materials and feature innovative designs to ensure long-term performance.
Emerson Electric Co.
Emerson Electric Co. is an American multinational corporation headquartered in Ferguson, Missouri. The company is a member of the Fortune 500 and manufactures and offers engineering and design services for various industries, including commercial, consumer, and industrial markets.
Butterfly Valves manufactured by Emerson Electric Co. are highly versatile valves with a modular mounting concept that can be installed in most orientations. They are offered with many optional accessories, such as chain wheels, limit switches, floor stands, and security features.
Emerson electric is another top butterfly valve manufacturer in the USA. Founded more than 130 years ago, Emerson has been manufacturing valves and associated products for industrial and commercial uses. They also provide repair and customer service services. Their products are used in various industries, including food processing, wastewater treatment, and electricity generation. And in case you're looking for a quality butterfly valve, look no further than the valves manufactured by Emerson electric.
Valworx
Valworx is a leading manufacturer of butterfly valves that are widely used in a variety of industrial applications. Available in sizes ranging from 1 to 4 inches, they are fully tested before being shipped. In addition, Valworx valves are backed by a comprehensive one-year warranty and a 60-day return policy.
Whether your application is for potable water or another type of fluid, you can choose the right Valworx butterfly valve for the job. The Valworx 3″ butterfly valve provides positive isolation for a fuel system and includes a 10 psi check valve. It is automated when used in an RYDM fueling system. The 4″ butterfly valve also features a check valve that accounts for the expansion of fuel in an RYDM fueling system. This valve comes with a trigger-position handle made of 304 stainless steel.
A Valworx electric actuator rotates the output drive, opening and closing the valve. This allows for reliable and economical remote operation and can be controlled by a four-digit mA signal. This type of actuator is ideal for situations where you want to use the valve without a technician present.
Davis
Davis is a butterfly valve manufacturer with headquarters in southern California. The company has been around for more than two centuries and produces a wide variety of products for water, gas, and sewage applications. They also produce knife gates and other valves.
The company has an ISO 9001:2015 certified facility and produces high-quality butterfly valves for a variety of industries. They stock over a thousand high-performance butterfly valves and 1,200 rubber-seated butterfly valves. Typical markets for Davis valves include oil and gas, pulp and paper, mining, and food. It is recommended that you buy butterfly valves from a company that manufactures them locally.
Nibco
Nibco is a leading manufacturer of pneumatic and electric butterfly valves. The company's butterfly valves have the highest corrosion-resistance standard disc and stem, and they are commonly used in the chemical and food processing industries. Its advanced encapsulated design keeps contaminants from affecting the valve's functionality. It also offers an extensive range of materials for the seat and disc. The company's Sure Torque(tm) series is a proven winner in the market.
If you're looking for a good source of high-quality sanitary valves, try Nibco. The company has been manufacturing high-quality sanitary valves for more than 40 years and has a proven track record of meeting or exceeding customers' expectations. In addition to their sanitary valves, Nibco also manufactures high-quality iron fire protection butterfly valves. These valves are manufactured to the highest standards available in the industry and feature a unique "N" witness mark.
Milwaukee Valve Company
Founded in 1901, Milwaukee Valve Company has been designing and manufacturing butterfly valves for over 119 years. Their cutting-edge production facilities have led to many advancements in industrial and marine applications. In fact, they have been installing their products on US Navy ships for over 50 years. Milwaukee is also known for its reactivity and customer service, so if you have a need for a butterfly valve, this is the company to turn to.
The Milwaukee Valve Company is a trusted valve supplier in the USA. They are committed to quality and customer service, and this commitment is reflected in their products. The company's ISO-certified facilities are equipped with state-of-the-art computer software and data acquisition laboratories. Moreover, their manufacturing facilities are updated continuously. Moreover, they have a strong team of engineers who are committed to making sure that each product is made to the highest standards.
DeZurik
When you're planning to install a new butterfly valve, you might be wondering whether to choose one of the many styles and models available. You don't need to worry – DeZurik's complete line of butterfly valves will meet your needs. Among the many types available, the AWWA Butterfly Valves are ideal for water treatment plants, wastewater treatment plants, and industrial facilities. Regardless of which style you choose, you'll be pleased to know that these valves are manufactured with high-quality components and backed by decades of satisfied customers.
The DeZURIK AWWA Butterfly Valves are designed for use in applications that require high-quality valves. Developed in accordance with AWWA C504 standards, they'll provide years of trouble-free service. These valves also feature numerous design features, including a rubber seated disc, a corrosion-resistant shaft, and a self-compensating disc seal. They're also made with long-lasting, low-friction bearings.
Conclusion
In conclusion, there are many butterfly valve manufacturers in the USA. Each of these manufacturers produces high-quality butterfly valves that are used in a variety of industrial and commercial applications. When choosing a butterfly valve manufacturer, it is important to consider the specific needs of your application, the size of your pipeline, and the materials that you need the valve to be made from. By choosing one of the manufacturers discussed in this article, you can be confident that you are getting a high-quality butterfly valve that will meet your specific needs.
Related Valves Products:
You may also like: