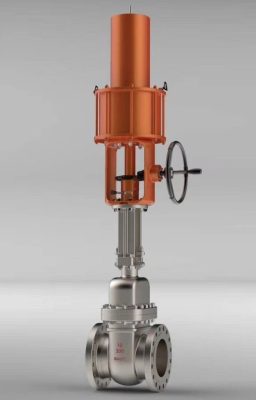 Pneumatic Actuated Gate Valve
Introductions The Forged Gate Valve functions as a pipeline cutoff, only allowing for full opening and full closing. When fully open, the medium in the valve body channel experiences almost zero flow resistance. This valve can be installed without regard for import and export directions, allowing for medium circulation in both directions. Forged Gate Valves […]
Products | Detials
Introductions
The Forged Gate Valve functions as a pipeline cutoff, only allowing for full opening and full closing. When fully open, the medium in the valve body channel experiences almost zero flow resistance. This valve can be installed without regard for import and export directions, allowing for medium circulation in both directions. Forged Gate Valves are widely used in cold and hot water pipeline systems, particularly in large diameter pipelines.
The valve has a small fluid resistance and the sealing surface is less likely to be brushed or corroded by the medium. Additionally, its opening and closing requires less effort. The flow direction of the medium is unrestricted, allowing for uninterrupted flow and pressure. Furthermore, the valve has a simple shape, short structure length, good manufacturing technology, and a wide range of applications.
Technical Specifications
| Specification | Description |
| --- | --- |
| Sizes | 1/2 to NPS 8 |
| Pressure Class | Class 150 to 2500 |
| Casting Materials | A216 WCB, A351 CF3, CF8, CF3M, CF8M, A995 4A, 5A, A352 LCB, LCC, LC2 |
| Forging Materials | A105, A182 F304, F3304L, F316, F316L, A182 F51, F53, A350 LF2, LF3, LF5 |
| Other Materials | Alloy 20, Monel, Inconel, Hastelloy |
| Bore | Full or Reduced |
| End Connection | RF, RTJ, or BW |
| Stem Type | Outside Screw & Yoke (OS&Y), rising stem |
| Bonnet Type | Bolted Bonnet or Pressure Seal Bonnet |
| Wedge Type | Flexible or Solid Wedge |
| Seat Rings | Renewable seat rings |
| Operator Type | Single Acting Pneumatic Actuator / Double Acting Pneumatic Actuator |

DESIGN STANDARD
Design & manufacture according to API 600, API 603, ASME B16.34
Face-to-face according to ASME B16.10
End Connection according to ASME B16.5 (RF & RTJ), ASME B16.25 (BW)
Test & inspection according to API 598
Also available per NACE MR-0175, NACE MR-0103, ISO 15848, API624
Advantages of Forged Gate Valve
Low fluid resistance and less brushing and corrosion of the sealing surface by the medium
Easy to open and close, less labor-intensive
Does not restrict the flow direction of the medium, does not disturb the flow, and does not reduce the pressure
Simple shape, short structure length, good manufacturing technology
Suitable for a wide range of applications
Applications of Forged Gate Valve
Forged Gate Valve is widely used in various industries and applications, including:
Cold and hot water pipeline systems
Oil and gas pipelines
Chemical and petrochemical plants
Power plants
Mining and metallurgical industries
HVAC systems
And more
Quality Assurance Standards:
We are committed to delivering high-quality products that meet or exceed our customers' expectations. Our Forged Gate Valves are subject to the following quality assurance standards:
All valves undergo a visual inspection to ensure that they meet the specified requirements.
All materials used in the manufacture of our valves are traceable to the original mill certificates.
Non-destructive testing (NDT) is performed on all critical components to ensure their integrity.
All valves are hydrostatically tested to the specified pressure requirements.
All valves are inspected and tested in accordance with API 598.
Related Valves Products:
Documents You may also like: